A rock landscape is an aesthetic, functional ground landscape alternative for homes and commercial properties. It has several advantages, from retaining soil moisture in your garden to complementing your existing hardscaping. Furthermore, rock landscape materials are highly durable and rarely lose their luster over time.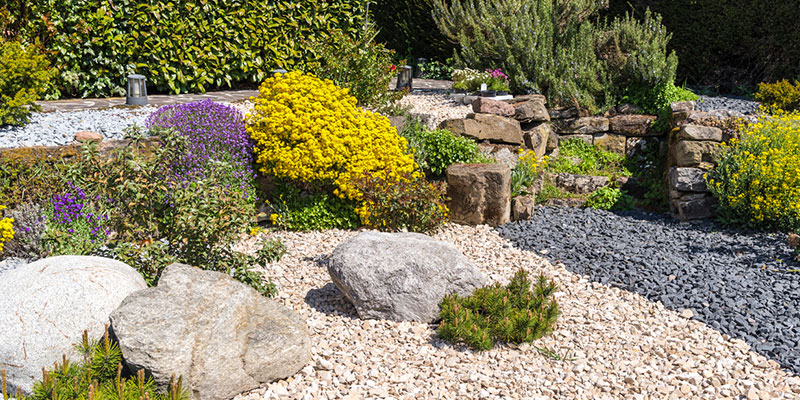 If you are thinking about decorating your yard with a rock landscape, we recommend the following materials:
River rock. The use of river rock dates back to ancient Rome, where it was used to pave Roman streets. Today, it is used to design unique rock landscapes on patios, walkways, and garden borders and beautify your water features.
Decorative boulders. Decorative boulders are a bold (pun intended) alternative for any rock landscape. They add height and texture to your garden landscaping, giving it a more natural appeal. Furthermore, they offer an otherwise flat landscape with more elevation. More elevation means your landscaping won't be too monotonous in terms of height.
Flagstone. These stones are cut from mountainsides and other rocky areas. They are then flattened and shaped for a more geometrical appearance. Flagstone adds a unique and solid aesthetic to your outdoors and is primarily a great choice when beautifying borders and edges. These may include garden edges, retaining walls, and seat walls.
Overall, there are many options to choose from for your rock landscape. The decision on which material is best for your outdoors mostly depends on your existing landscaping and personal preference. At Oasis Lawn Care, we are always happy to help you choose and install the perfect rock landscape for your property. Give us a call today.